Either get a subscription to TREAD Magazine or buy a limited edition TREAD LIGHTLY! T-Shirt and get a free 10mm Socket from KOKEN TOOLS USA as our thank you.
Fast Friends, Tread Magazine, Tread Lightly! and Koken Tools have come together for two very cool experiences!
But who are these companies and why did we get together to begin with?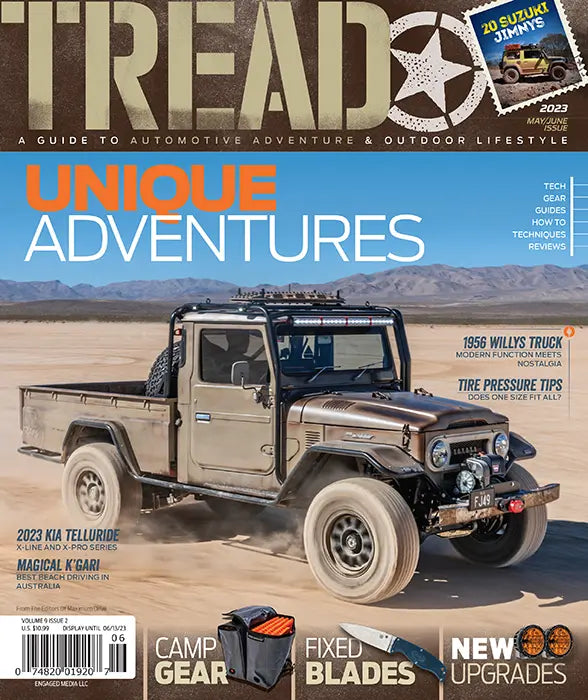 There aren't too many magazines out thereThat are dedicated to what we do.Tread is one of them.
Missing your 10mm? We found it!

The first 100 Tread Magazine subscriptions come with a free 10mm socket from Koken!
In celebration of Ali's feature in TREAD Magazine with Kate the Jeep (finally), we teamed up with TREAD Magazine and Koken to not only get you into one of the industry's best Overland Adventure magazines but to also get you your lost socket!

TREAD has been supporting our ideas since day 1 and this collaboration between Fast Friends, Koken and TREAD is the kind of thing that makes this industry fun and why we like being a part of it.

Check out the September issue for one of the raddest Jeeps (sure we're biased) and get yourself a scrip and a socket.

Thanks 7riends!


SUBSCRIBE
NOT EVERYONE WHO IS ABOUT "IT", IS ABOUT "IT"
We get it though…kinda.
We can see how cutting that corner could get you to where you want to be faster, but then you wouldn't make a heck of a lot of 7riends that way. Not our vibe, not our people.

Koken is a tool company that doesn't cut corners, they focus on the little things, and pursue a path that leads to the most perfect hand tools they can make.

From humble roots at FORD to becoming a global supplier of quality hand tools, KOKEN is our kind of independently owned high performance Japanese
tool company.

Check out their new Z-Series tools that set the bar yet again by giving us the low profile thin walled style sockets we've been needing for our projects.
DISCOVER Z-SERIES
A 7AST 7RIENDS "7UN"RAISER
IF THERE IS ONE THING YOU CAN DO, IT'S TO DO YOUR PART. EASY.

We're doing ours with an exclusive and limited run of our first collaborative shirt with Tread Lightly!

All proceeds from the sale of this shirt will go back to supporting Tread Lightly!'s fight to protect our fun on the trail.

Each shirt also comes with your lost 10mm socket thanks to KOKEN Tools USA.

To learn more about Tread Lightly! and how you can do your part, visit the link below.